Amid hope and hype, delegates have finished signing the Paris climate agreement at UN headquarters in New York.
Some 171 countries inked the deal today, a record number for a new international treaty. About 15 nations, mainly small island states, had already ratified the agreement. But dozens of other countries were required to take this second step before the pact came into force. UN Secretary-General Ban Ki-moon said: "Paris will shape the lives of all future generations in a profound way - it is their future that is at stake." Speaking at the opening ceremony, he said the planet was experiencing record temperatures: "We are in a race against time. I urge all countries to join the agreement at the national level. "Today we are signing a new covenant for the future."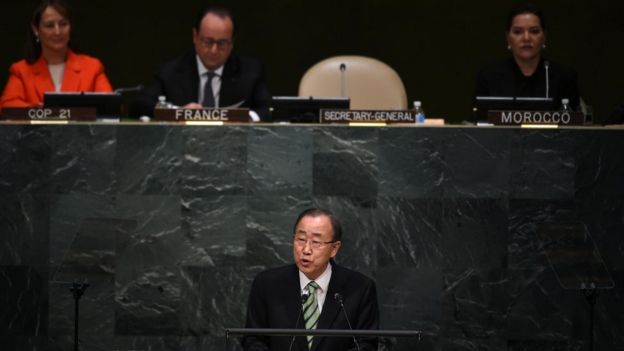 As the world marked the 46th Earth Day, UN climate chief Christiana Figueres explained what now needed to happened. "Most countries, though not all, need to take the signed document and go back home and go to ratification procedures that in most countries requires parliamentary discussion and decision."
---
Analysis
David Shukman, Science Editor, New York
Only a few years ago the very idea of a global treaty to limit climate change seemed almost impossible. The ghosts of the failed Copenhagen summit in 2009 haunted the negotiations. Now, in a total transformation in morale, almost all of the world's governments are here in New York to support the new Paris Agreement. The sheer scale of the turnout is seen as a signal of political determination. The atmosphere is positive, up to a point. Tough challenges lie ahead.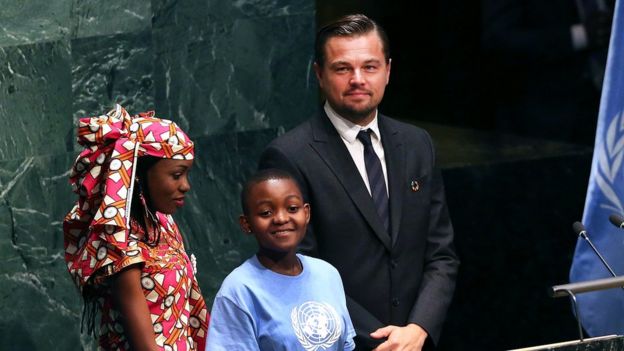 One is the task of ratification, another the continuing arguments over cash, a third the basic fact that the deal was only made possible because each country's actions are entirely voluntary. And then there's the awkward truth that, amid the celebrations, all eyes are transfixed by events beyond the UN buildings. Mention of the name Trump triggers nervous laughter. A Republican victory would presumably lead to America's withdrawal from the agreement. And that would risk undermining the entire process.
---
Hollywood actor and climate change campaigner Leonardo DiCaprio said: "After 21 years of debates and conferences it's time to declare no more talks, no more 10-year studies, no more allowing the fossil fuel companies to manipulate and dictate the science and the policies that affect our future. This is the body that can do what is needed." France's president Francois Hollande said the agreement in Paris was
READ MORE